July 8, 2008
You all have to check out the latest issue of Sketch Magazine #35. In there I have written an article about my process of doing the ever so popular sketchcards. The reaction I've received so far from others is that it was well read and very informative. Also, some say the've enjoyed as to what goes on in my head :). So check it out peeps :)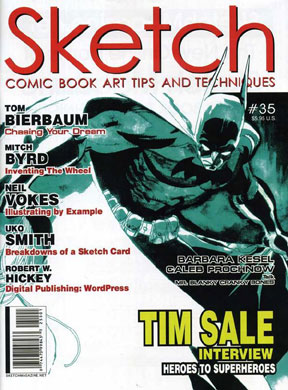 April 10, 2007
Wow, it's been a while since I last posted on this page. Well, wait no longer. I will be posting some things that I can post. Hopefully soon I will be able show some Batman, Women of Marvel and some other things soon.
Don't know if many know that I'm teaching a comic book illustration class at my former college. I took over for Corroney who then, had taken over for Darryl Banks. Well, now the torch is passed to me and I am trying to kee it alive. I hear this every so often at my school that they threaten to cancel the class for whatever reason. But whatever reason that may be, I don't see it as a viable reason and for a discussion that can go on and on and on, I'll just say that the students that I have are some great students and I've discussed this topic with them about what may eventually happen and they didn't seem to like it as some would want to take the class every semester. It would just suck for them to cancel this class as I am writing a description for the class next fall along with some printed materials as well. I"m really excited with what I have planned for this class and I hope I get to fully develop the class into something much much better with the ideas that I have in mind. I'm crossing my fingers.
But anyways, some new images to appear this week, so check back. 'til then.